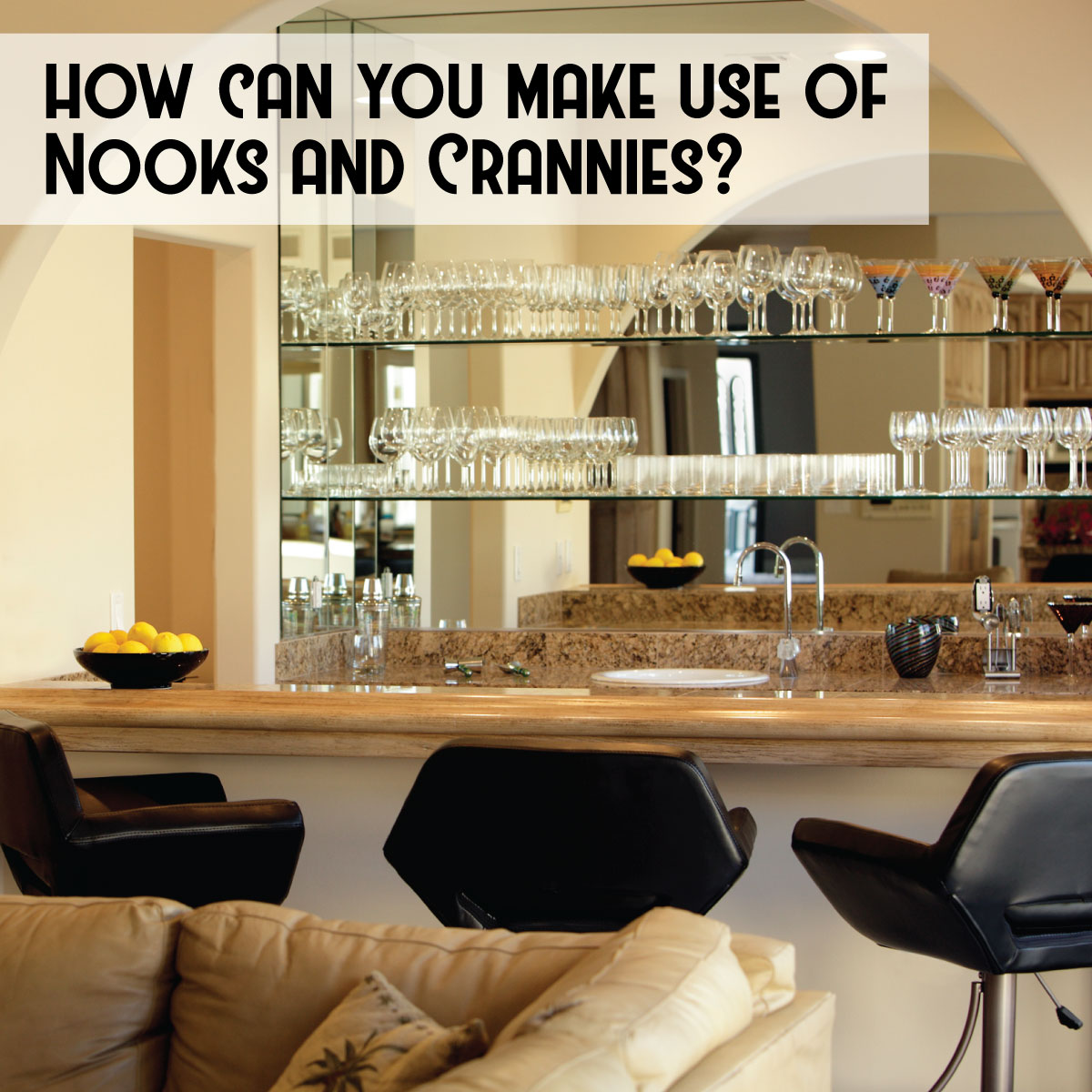 Nooks and Crannies
5 Ways to Make Use of Nooks and Crannies
Some houses are built with odd, seemingly pointless nooks and crannies formed by strangely placed walls and doorways. Maybe the architects were inspired by M.C. Escher? Whatever the reasoning behind it, you're stuck with a bunch of spaces that are too big to ignore but too small to be used conventionally. Not ready to knock any walls down? No problem! We've got five ways to make good use of those pesky nooks and crannies.
Home Bar
Wine lovers rejoice! Many homeowners and interior designers have become increasingly interested in home bars recently, and it's easy to see why. Adding these setups provides not only fun and functionality but also a lovely splash of color and an artsy touch to any room. Home bars can also fit in small spaces, no matter how narrow, so are perfect for the odd recess off your kitchen or dining room. Picture high gloss paint or lacquer (they make it easy to clean up any spills), clear glass shelves, custom lighting, refrigerated drawers instead of a full-sized wine fridge, and a boldly colorful backsplash.
Shelving
Perfect for any corner, there's an abundance of shelving units designed to fit snugly against adjoining walls. Choose between stair step shelves, ironwork platforms, or a classic corner bookcase to house your possessions. Cookbooks, novels, picture frames, plants, souvenirs, analog clocks, elegant dishware, you name it– turn your corners into beautiful displays.
Book Nook
Little nooks and crannies are a bookworm's dream! Fill your wall space with bookshelves and your floor space with cushy chairs, because it's time to travel the world from your own home. Not enough room for armchairs or a sofa? Buy some oversized pillows or a beanbag for a cozy seat. Tucked away from the chaos, a book nook beats a living room any day. Just make sure there's plenty of light!
Pet Perch
Got a furry friend? Use that extra space to house your dog or cat and create a place to store their crate, jungle gym, scratching post, and bed. Pssst…this is also an excuse to avoid cleaning up their toys…just toss them into the nook instead of a basket or bin! Luckily, dogs and cats don't mind clutter the same way we do…
Storage
Last but never least, nooks and crannies are often quite useful as storage spaces. It may not be the prettiest option, but wouldn't you rather store surplus supplies and old junk somewhere out of sight? Consider hanging a curtain over the entrance to close off the space from the rest of your home. You could even turn it into a closet if it's small enough! Grab a handful of Command hooks and you're ready to go.
Want to Expand the Nooks and Crannies?
We can help! Our team's expertise extends well beyond the realm of fencing and decking. If you need any home remodeling in or around Baltimore, MD, then Excel is your go-to company. We offer the best in customer service alongside unbeatable prices and top-quality construction materials. Contact us today through our quick online form or give us a call at 410-803-9499 and let the journey with Excel Fencing and Decking begin!