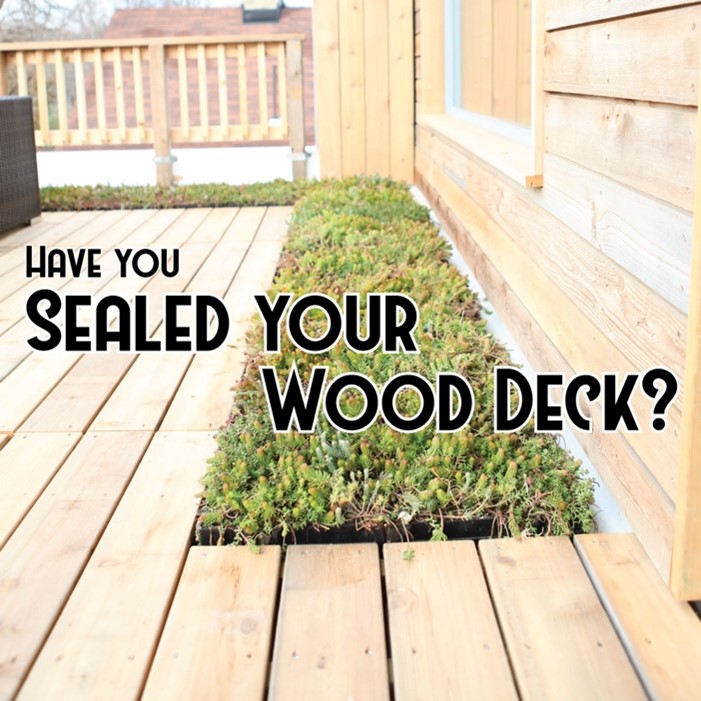 Deck Sealer:
What Every Homeowner Needs to Know About Sealing a Wood Deck
Whether you added a brand new deck to your yard earlier this year to enjoy the great outdoors or you want to keep your aging wood deck in the best condition possible. Every wood deck owner needs to learn about deck sealer and to understand the basics of sealing a wood deck. Sealing allows your deck to remain in excellent condition as the seasons change and preserves your investment for as long as possible.
What Does Deck Sealer Do to a Wood Deck?
Sealing a wood deck helps to lock out moisture and protect the wood from the cumulative effects of sun, rain and changes in the temperature. In many cases, decks should be re-sealed once a year depending on wear and tear.
When Do I Need Deck Sealer?
The simplest way to see if you need to seal your deck is with a water test. Sprinkle water on the surface of your wood deck and watch what happens. If the water soaks in right away, the deck needs to be sealed. However, if the water beads on the surface or sits on the deck without soaking in, it probably does not need to be sealed yet. If your deck is new, you should also wait before you seal. Sealing a wood deck that is less than a few months old will not work properly, as it still has increased moisture levels and will not properly absorb the sealant until it dries out and settles in.
What Are My Options for Sealing a Wood Deck?
If your deck is an exotic hardwood, you might not have as many options for sealant. However, if you have a more standard wood like pressure-treated pine, you can typically select either clear sealer, tinted sealer or solid sealer. Clear sealers protect the wood without altering the color at all. Semi-transparent stains can showcase the beauty of the wood grain while still offering ultraviolet protection and waterproofing. Finally, you can choose a solid stain for sealing a wood deck to change the color of the deck more radically.
Get Help or More Information About Deck Sealer From Excel Fencing and Decking
At Excel Fencing and Decking, we are proud to meet the needs of every customer, whether they are searching for new residential wood fencing or repairs to aluminum decking. We are a full-service fencing and decking company working throughout the greater Baltimore area and carrying top brands including Trex, Azek, Shoreline Vinyl Systems and Wolf PVC Decking. And don't forget to install an under deck drainage system! To learn more about our services, give us a call at (410) 803-9499.