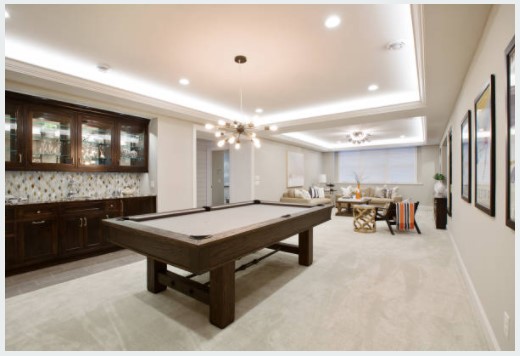 Ideas for An Awesome Basement
If you're just using your basement for storage, you're losing out on amazing opportunity to add further comfort and value to your home. Instead of letting the dust accumulate, why not turn the basement into a space of great meaning in your home? As a bonus, this change will increase your house's appeal to buyers should you decide to sell. Let's go over some ideas for an awesome basement to renovate and design!
Consider the Layout
Before you decide what to do with your basement, get an idea of how much space you have to work with. Whether your basement is a single room or takes up an entire floor in your house there are several design options. While you should think about how to use your basement's space, don't let your mind be limited. Every kind of space offers an opportunity to enhance your home. Remodeling your basement will automatically boost the value of your house too. It doesn't need to be vast, just comfortable. Start thinking about what you'd like to have in a basement. Would you like to share the space with others or leave your basement as a more solitary retreat?
Create a Family Room
If your basement is crowded or has multiple corners, consider removing a wall to open up a more central space. This will help you generate the space you need to host more guests or the whole family at once. You can then accessorize your family room with furniture, a library, and games. Take care not to overcrowd the family room though. Remember, you need to have room to play! You could also add a large table and our couch to the family-basement so you and the family can enjoy board games as well. Depending on your space, you could add additional comforts like multiple couches and a TV. Make sure you have enough lighting to be able to engage with the family too. In addition to ceiling light fixtures, you could also bring in lamps to add luminance.
Home Office
A home office, or study, is another great way to use your basement, particularly if you have a smaller basement with less room. This option could also allow you plenty of room for storage if you take advantage of the space you're not actually using. Consider filling the main area with a desk and chair you'll feel comfortable working at. If you don't have power outlets, adding them to the office will enable you to run power to your computer and other appliances you need for work. Make sure to put up your favorite paintings, photos, and other decorations to turn your basement into the office you've always wanted!
The Ultimate Lounge
If you just want a quiet place to watch a movie or read a book, your basement can be the center of relaxation in your house. In addition to the couches, chairs, and other accessories, consider adding a private bathroom and even a bar to your basement lounge. This is for your chance to build a romantic getaway or a quiet place to play music and entertain friends. If you decide to make the basement a central hangout, an advanced stereo system and TV could also serve to spice up the lounge!
Hire the Right Professionals
Are you getting ideas for your basement but need help remodeling and designing the space? We can help! Our team at Excel Fencing and Decking are experienced with helping you solidify your home vision and then bring it to fruition!
Excel Fencing and Decking has been proud to service Maryland since 1998, giving you the very best in-home remodeling.  Call us at 410-803-9499 or fill out a contact form and one of Excel's representatives will contact you promptly.