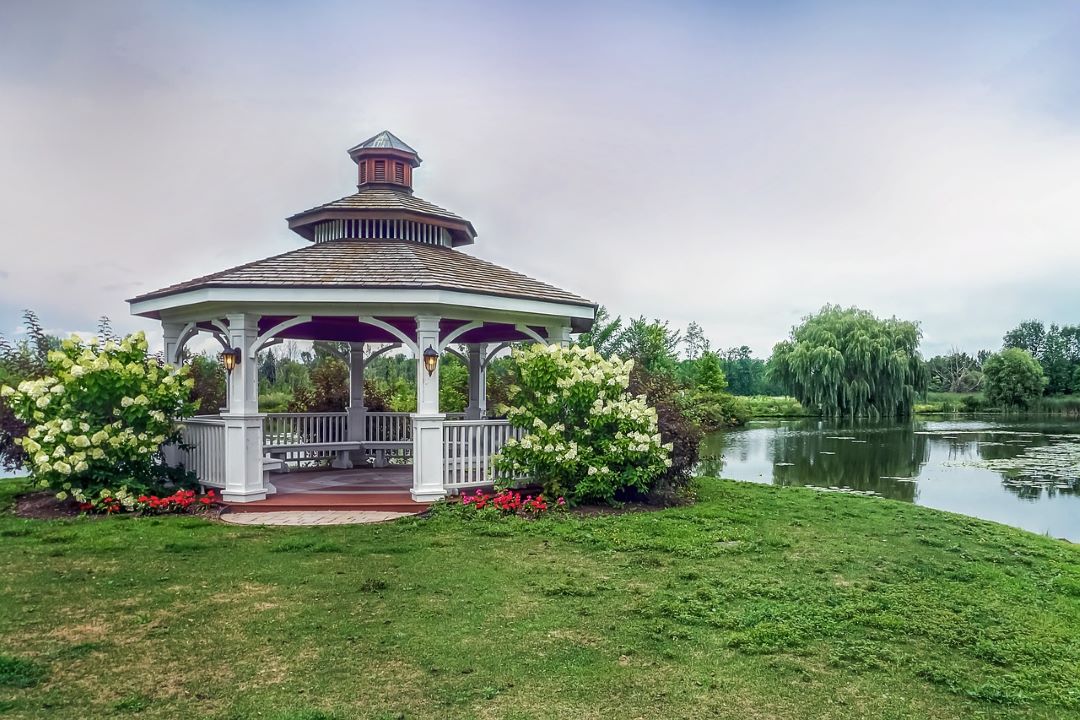 Gazebo Q & A
Some outdoor spaces are more common than others, so where do gazebos fall?  They're actually quite common in public venues like parks, gardens, and event spaces, but less so on private property.  Even so, that doesn't mean you can't add one to enhance your overall landscaping.  Here are a few Gazebo Q & A we commonly get before beginning construction.
What is a gazebo?
Basically, it's a freestanding structure with only a roof to provide shelter.  The sides are typically open and situated in a hexagonal or octagonal pattern.  Designs range from simple to ornate and can be crafted to coordinate with style or color(s) of your home.  There are different variations of this feature throughout the globe—many of which go by a different name.  Our models in the United States more closely resemble the traditional English gazebo made popular in the 19th century.  However, you can also draw on Asian teahouses for inspiration.
What can I use it for?
Installing a gazebo somewhere on your property can have a couple effects.  Because they're no longer common, you can use this structure as the focal point of your property.  Place it in your garden or at one of the higher elevation points so you and your guests can enjoy beautiful views in the shade of your new gazebo.
Be sure to opt for built-in seating, so everyone can find comfort in the peaceful scene you're setting.  If you want to add more privacy, you can also install latticework or weatherproof curtains/drapes that create this illusion without being completely closed in.  Since these were traditionally created to act as a gathering place, help this tradition hold true!  Make it an inviting space and place pathways leading up to it, so your guests can easily find it.  You can even use it to center your gatherings year-round.
Can anyone get one?
Theoretically, yes.  It just depends on your property.  In England, gazebos graced the rolling hills of lordly estates.  While you don't necessarily need thousands of acres to accommodate one of these structures, you do need some space.  As we mentioned, gardens are ideal locations, but you can put it anywhere you're trying to draw attention.  They even have options that can be integrated into your existing deck and/or patio in case you're short on yard.  Now you can show for prefabricated gazebos and choose your style, size, colors, etc.  Once you find an option you like, double check the measurements and try to envision where you'd put it on your property.  If need be, we can help your customize this, or use it as inspiration before handcrafting your own.
Gazebos have been around for centuries, and it's not hard to see why.  If you have the space, try dressing it up a little by strategically placing this structure in a convenient spot.  As decking and fencing experts, we also help with miscellaneous outdoor projects, such as this.  So, consult with our experienced staff before ordering anything.  We can help you coordinate your materials with what you already have running throughout the property and even install it (along with  a deck or patio)!  For more information, give us a call!